So.
Allow me to begin this update with the usual apology. I'm sorry, but the last couple of months have been a whirlwind (I think I've overused that term in these updates...) Overall, 2006 has been my most productive year artistically! I have been blessed to have been surrounded by such amazingly supportive family, friends, and mentor-types.


I hope you've all been having a stellar new year! It seems to be TEH YEAR to make things happen; many of my peoples seem to have some AMBIIIIITIOUS goals! I can't wait to see you all pull through! In the meantime, I will be your #1 cheerleader. <3 (I love adding <3<3<3<3 to anything.)


I've neglected this site since I've been developing my show and I found myself in Chicago for an extended period of time. So....drumrolllll PLEASE!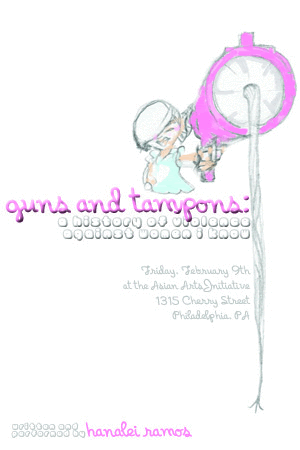 Hanalei Ramos
Guns and Tampons: A History of Violence Against Women I Know

Friday, February 9, 8:30 p.m.
$10 admission, $5 for members
Asian Arts Initiative, 1315 Cherry St, 2nd Fl, Philadelphia, PA 19107
Guns and Tampons: A History of Violence Against Women I Know
is the debut of new work by spoken word artist and writer, Hanalei Ramos. In her first multi-media solo show, Hanalei has created one act plays based on the experiences of three women who are victims and survivors of domestic violence. By staging portraits of some of the most intimate moments in a woman's life,
Guns and Tampons
challenges our working definition of womanhood and examines how it is warped by cultural expectations, societal conditioning, and subtle forms of violence. Ultimately, the patchwork testimony of several individuals becomes the story of all women, and a compelling glimpse into a world of survival and strength.
GUNS AND TAMPONS: A History of Violence Against Women I Know will be debuted in its entirety 3 days before my 25th birthday! How exciting is that? I've been solidifying the writing and memorizing my lines! So, let's do this Rockapella!


love,

hanalei